Being in a relationship isn't always easy, and if you're in a long-distance relationship (LDR), then that comes with its own set of challenges. For example, keeping the bond close and the passion high is harder when there's a lot of space between each of you, but with the right type of romantic gifts, you can keep your love strong and even reinforce your bond. Here at Kittelberger Florist, Webster's top florist, we know quite a bit about love and romance. To help you sail smoothly through a long-distance relationship, we listed some excellent gift ideas to keep the embers hot.
Perfect Gifts for Strengthening Your Long-Distance Bond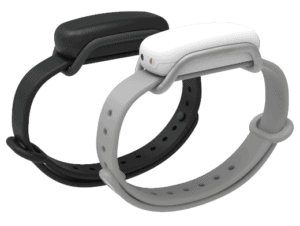 Touch Bracelets
When you're missing your partner and want to send them just a quick, discreet message then touch bracelets are the way to go. These cool hi-tech bracelets send vibrations and colored lights to your partner's bracelets whenever you touch yours. It's a subtle and cool way to stay close to your sweetheart.
Roses
The gorgeous, sweet-smelling rose is universally-recognized as the flower that best symbolizes love and romance. To make your long-distance love to feel special, just send a bouquet of roses. Red roses express deep love, passion, and romance, which is why they are popular on Valentine's Day. Orange, pink, peach, and lavender roses are just as lovely, as our Mixed Colorful Roses bouquet. Surprise your sweetheart with roses in her favorite color to make her swoon in delight.
Plush Doggo
When you are unable to be there in person snuggle and keep your sweetie warm, then give her a cute, squishy, soft, and very huggle plush animal, like a plush doggo. These super cute critters make great companions for anyone and when your long-distance love snuggles up with it, she will be thinking of you.
Furbo Pet Camera
Speaking of cute critters, if you and your long-distance love have a pet together, then it is important to maintain that bond too. This is easily done with a Pet Camera, where you and your SO can interact with, toss treats to, and watch how Fluffy spent his day.
Custom Print Jigsaw Puzzle
Puzzles are a great way to pass the time and challenge the mind. If your sweetie is a puzzle lover, then a custom print one with an image of both of you as the picture is a great way to keep you in their heart and mind while you're away.
Plant
A living plant is great for sprucing up any indoor space, and it is also a great gift for numerous other reasons. For example, plants are excellent air purifiers, and second, they have mood-boosting benefits. Plus, just as a plant needs to be watered, nurtured, and cared for in order to flourish, so too does your relationship. Pick out a hard-to-kill plant, like a Philodendron, if you are concerned about your partner's green thumb.
Not just any gift will do when you are in a long-distance relationship. Each gift you send should be from the heart and something your SO will also enjoy. Also, it is essential gifts are sent frequently to maintain the bond between both of you. If you need additional gift ideas, then just know the one gift you can send over and over again and always be right on the money is… flowers! Everyone loves receiving fresh seasonal flowers with each month showcasing different florals. Keep the LDR bond strong with the right types of gifts until you can be together forever.